TAN CHONG COMPANIES & BRANDS
MAN Commercial Vehicles (Thailand) Co.,Ltd.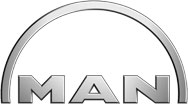 MAN Commercial Vehicles (Thailand) Co.,Ltd (MCVT) was established on 8 December 2011 as the exclusive Thailand importer of MAN Trucks & Buses vehicle. The company is responsible for sales, marketing, services, parts and support for customer and dealer networks. MCVT plans to enhance its brand and increase sales to cash in on the growing market in Thailand.
MAN Truck & Bus AG, based in Munich Germany, is the largest company in the MAN Group and one of the leading international providers of efficient commercial vehicles and innovative transport solutions. In the fiscal year 2011 the company, with some 34,000 employees, generated a turnover of € 9 billion with sales of more than 77,600 trucks and over 5,700 buses and bus chassis under the MAN and NEOPLAN brands.
Beside the production of drives for MAN trucks and NEOPLAN buses, MAN Truck & Bus AG develops and produces engines for various other purposes like industrial engines for the generation of electricity and drive units for rail, water and special vehicles. Their range extends from 100hp to 1550hp.
At the same time the company supplies systems to other vehicle manufacturers and offers drive units for various road vehicles. In 2006 the company produced about 101,600 units. In 2006 MAN was awarded the BDI environmental prize in the category for environmentally compatible products by the Federal Association of German Industry for the MAN PM-KAT®, which is used with EGR in Euro 4 engines.
The registered office of MCVT in Thailand is located on Rangsit-Pathumthani Road with a unique 3S Centre with full facilities including test track.
Date of Incorporation
8th December 2011
Principal Activities
Importation and Distribution of MAN Truck & Bus and Parts, Sales, Marketing, Services, Parts and Support for customer and dealer networks.
Major Accomplishments/Awards/Certifications
1. 2008 : Truck of the Year
2. 2006 : Truck of the Year
3. 2005 : Bus of the Year
4. 2006 : iF design award
Major Events held in 2012
Feb, 2012 - "Logistic Fun Park in Saraburi" via Thai Transportation and Logistics Association
Aug-Oct, 2012 - "Truck Show in ChiangMai" via Chanasin Motor Co.,Ltd
Aug-Nov, 2012 - "Truck Show in Khonkhan" via CTVDoll Co.,Ltd
Nov, 2012 - "12th NTA event at Nakornrachasima " via North Eastern Transport Association
Dec, 2012 - " TC Night Party MOTOR Expo " via Tan Chong Group
Dec, 2012 - "TLTA event in Nakornsawan " via Northern Transport Association
Contact Person
Mr. Pichit Rachawong (General Manager)
8/8 Moo 1, Rangsit-Pathumthani Road, T.Ban Klang,
A. Muang District. Pathumthani, 12000. Thailand.
Tel: (66) 2567-0070-5 Fax: (66) 2567-0076
Email: pichit.rachawong@man-cv.co.th

Website
Download MAN Truck & Bus Mobile App :
iPhone :http://itunes.apple.com/us/app/man-truck-bus/id436123140?mt=8
iPad :http://itunes.apple.com/de/app/man-truck-bus-hd/id4366814342?mt=8tg