TAN CHONG COMPANIES & BRANDS
Foton Truck (Thailand) Co. Ltd.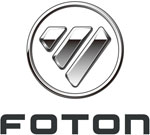 Foton Motors was established on April 28, 1996 with their headquarters located in Beijing, People's Republic of China. The main business activity is manufacturing commercial vehicles such as medium trucks. In only 15 years, Foton Motors has achieved tremendous growth, achieving the highest sales for 10 consecutive years and topping the sales ranking chart in China for 5 consecutive years since 2003. In 2010-2011, Foton Motors reached top sales volume of 693,000 trucks in China and worldwide.
Foton Motors places importance on continuous product research and development. There are 2 research centres in the country and has also joint ventures with many business leaders, for instance, Daimler and Cummins, for the purpose of technology cooperation and product development.
Foton Motors is registered as a public company on the Shanghai stock exchange with 30 billion Yuan authorized capital and more than 40,000 employees. Foton Motors manufactures and sells commercial vehicles for 11 brands and 100 models, covering heavy trucks, medium trucks, SUVs, and pick-up trucks, such as Auman, AUV, Aumark, MP-X, Midi, View, Saga, Ollin, SUP, Tunland, and Forland.
Foton Truck (Thailand) was established on December 26, 2011, with a registered capital of 10 million baht. It began as a Sole Distributor, handling the sales and marketing of Foton trucks. During mid-2012, 2 new models were launched, the Foton Truck Tractor Head 340 HP with CNG and Foton Truck concrete mixer 340 HP.


Date of Incorporation
26th December 2011
Contact Person
Varit V., Assistant Marketing Manager
59 Moo 1, Rangsit-Pathumthani Road., Banklang,
Muang District, Panthumthani 12000 Thailand.
Tel: +662-567-2882 Fax: +662-567-2886
Email: varit.v@foton.co.th